Welcome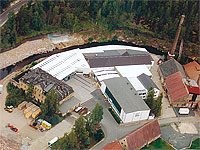 Since 1992, the Schiwa-Profile Schill & Walther GmbH has stood for reliability and quality. A pioneering and risk-taking spirit, accompanied by the will to succeed, has and continues to be a driving force for the company.
In-depth knowledge in engineering and metalworking, in conjunction with a high commitment to our employees contribute to our success.
The search for new production technologies and the improvement of the user experience are important for us. In addition, we are committed to educating and training our technical and commercial staff.
Highest quality and longevity of our products and the related satisfaction of our customers led to a quality certification in 1999 by the TÜV CA Rhineland/Berlin-Brandenburg.
Experienced in construction customer advisers maintain close to our customers and provide a creative exchange of information between users and manufacturers.
Our good price performance ratio brought us growing production figures.
"Produced in Saxony – delivered throughout Europe"